AMS Pavan Calligraphy Font
A captivating fusion of artistry and innovation that celebrates the essence of both Hindi Calligraphy and Marathi Calligraphy. With its bold and expressive strokes, AMS Pavan exudes a sense of power and grace, making it an ideal choice for a wide range of design projects.
AMS Pavan Calligraphy font brings your words to life, elevating your designs with its enchanting charm and timeless appeal. From logos and branding to invitations and social media graphics, this font is a versatile companion for all your creative endeavors.
With an impressive rating of 10 out of 10, AMS Pavan has captured the hearts of designers and users worldwide. Its trendsetting style and unparalleled beauty have made it a beloved font among the creative community.
As a variable font, AMS Pavan empowers designers with the ability to explore limitless possibilities. With up to 12 variables for a single letter, this font opens the door to unparalleled customization, allowing you to create designs that truly reflect your artistic vision.
AMS Pavan Calligraphy font is not just a font; it is an undiscovered gem, waiting to be explored and appreciated for its unique qualities. Embrace the power of expression with AMS Pavan, where each character tells a story of its own.
| Font Name | AMS Pavan |
| --- | --- |
| Language | Hindi Font | Marathi Font |
| Font Style | Calligraphy Font |
| Font Weight | Bold Font |
| Rating | 10 out of 10 ★ |
| Variables | Yes - Upto 12 |
Gear up with AMS Pavan Calligraphy Font, which comes as part of the IndiaFont V3 software. Alongside 100's of other stunning calligraphy fonts, this font is an invaluable asset that empowers your design endeavors.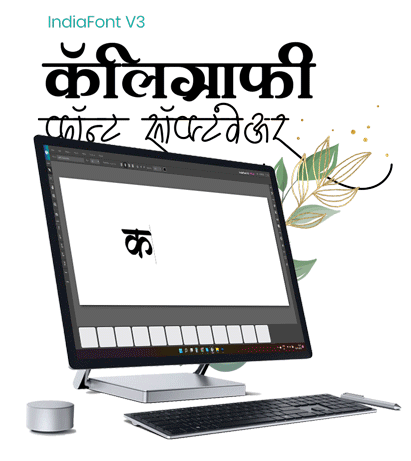 Hindi Marathi Calligraphy Fonts
Calligraphy Font Software: IndiaFont V3
At IndiaFont, called AMS Fonts also, we offer a diverse range of Free Indian Calligraphy Fonts. Explore our collection and unleash your imagination with our captivating fonts. Feel free to check some cool free fonts and download as needed.