AMS Samkon Six Calligraphy Font
A striking blend of elegance and boldness, meticulously crafted to showcase the artistry of Hindi Calligraphy and Marathi Calligraphy. This bold and captivating font is the perfect choice for expressing your creativity in various design projects.
With an impressive rating of 9 out of 10, AMS Samkon Six has already captured the hearts of designers and enthusiasts, making it a sought-after font in the world of calligraphy. Its trendsetting appeal and wide popularity establish it as one of the best calligraphy fonts available today.
While some fonts boast variables, AMS Samkon Six confidently stands as a non-variable font that doesn't compromise on quality. Its uniformity and consistency make it a reliable choice for a wide range of design applications.
Discover the seamless fusion of tradition and modernity with AMS Samkon Six Calligraphy Font. This font celebrates the rich heritage of Hindi and Marathi calligraphy while embracing contemporary aesthetics.
AMS Samkon Six Calligraphy Font allows you to add a touch of sophistication and charm to your designs. Whether you're working on logos, invitations, banners, or any other creative project, this font will effortlessly elevate your work to new levels of artistic brilliance.
Embody the essence of timeless artistry with AMS Samkon Six Calligraphy Font. Its graceful strokes and bold demeanor will breathe life into your designs, leaving a lasting impression on your audience.
Explore the endless possibilities of AMS Samkon Six Calligraphy Font and unleash your creativity like never before. Embrace the art of expression and create designs that resonate with the soul.
| Font Name | AMS Samkon Six |
| --- | --- |
| Language | Hindi Font | Marathi Font |
| Font Style | Calligraphy Font |
| Font Weight | Bold Font |
| Rating | 9 out of 10 ★ |
| Variables | None |
Gear up with AMS Samkon Six Calligraphy Font, which comes as part of the IndiaFont V3 software. Alongside 100's of other stunning calligraphy fonts, this font is an invaluable asset that empowers your design endeavors.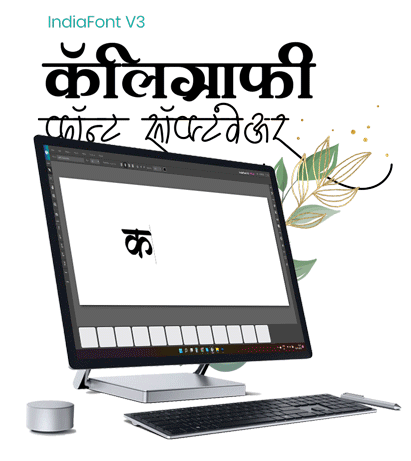 Hindi Marathi Calligraphy Fonts
Calligraphy Font Software: IndiaFont V3
At IndiaFont, called AMS Fonts also, we offer a diverse range of Free Indian Calligraphy Fonts. Explore our collection and unleash your imagination with our captivating fonts. Feel free to check some cool free fonts and download as needed.