Introducing AMS Aaradhya Calligraphy Font: IndiaFont V3
Introducing AMS Aaradhya Calligraphy Font, a captivating Calligraphy Font that brings sophistication and creativity to your design projects. This premium font, with its charming Regular weight, is a perfect choice for designers seeking elegance in their Hindi and Marathi font creations.
With its graceful calligraphy style, AMS Aaradhya Calligraphy Font breathes life into your designs, infusing them with an artistic touch. Its remarkable rating of 9 out of 10 speaks to its unparalleled beauty and allure, making it a standout addition to your font collection.
Embrace the allure of AMS Aaradhya Calligraphy Font, a font that effortlessly elevates your designs. Whether you're crafting captivating posters, enchanting invitations, or impressive typography, this font adds a touch of finesse to your Hindi and Marathi calligraphy fonts.
As a premium font available exclusively at IndiaFont.com, AMS Aaradhya Calligraphy Font grants you access to a curated selection of the finest calligraphy fonts, igniting your creativity and setting your designs apart.
Step into the world of artistry with AMS Aaradhya Calligraphy Font, and experience the joy of creating designs that leave a lasting impression.
| | |
| --- | --- |
| Font Name: | AMS Aaradhya |
| Language: | Hindi Font, Marathi Font |
| Font Style: | Calligraphy Font |
| Font Weight: | Regular |
| Best for: | Design Decoration |
| Rating: | 9 out of 10 |
| Font Author: | Pradip Koli |
| Company: | ArtoMania Studio Pvt Ltd |
| Availability: | Premium Font |
| Available at: | IndiaFont.com |
| Font Publication Year: | 2018 |
Gear up with AMS Aaradhya Calligraphy Font, which comes as part of the IndiaFont V3 software. Alongside 100's of other stunning calligraphy fonts, this font is an invaluable asset that empowers your design endeavors.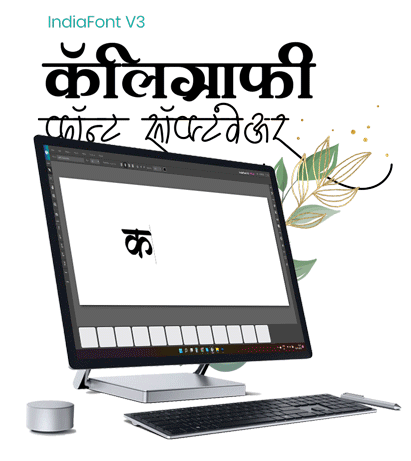 Hindi Marathi Calligraphy Fonts
Calligraphy Font Software: IndiaFont V3
At IndiaFont, called AMS Fonts also, we offer a diverse range of Free Indian Calligraphy Fonts. Explore our collection and unleash your imagination with our captivating fonts. Feel free to check some cool free fonts and download as needed.