AMS Vijay Calligraphy Font
Your gateway to the enchanting world of Hindi Calligraphy and Marathi Calligraphy. With a perfect blend of elegance and artistry, this bold typeface will leave a lasting impression on your creative endeavors.
AMS Vijay Calligraphy Font is a true masterpiece that captivates with its impeccable strokes and graceful curves, making it a perfect choice for various design projects. Let your imagination run wild as you bring your ideas to life with the captivating charm of calligraphy.
With an exceptional rating of 10 out of 10, AMS Vijay stands as a testament to its unrivaled quality and popularity among designers and artists alike. Embrace this trending font that has been loved by many for its exceptional design.
This is not just any ordinary font; AMS Vijay Calligraphy embraces the concept of versatility with limited variables for a single letter. Experience the joy of customization and add a touch of uniqueness to your designs.
Unlock the potential of your creativity with AMS Vijay Calligraphy Font. Its artistic essence and timeless appeal will elevate your designs and set them apart from the rest.
For those seeking an undiscovered gem in the world of typography, look no further than AMS Vijay Calligraphy Font. Step into the unexplored realms of creativity and let this font be your artistic companion on your creative journey.
Whether you are working on logos, branding, invitations, or any other project that demands an exquisite touch, AMS Vijay Calligraphy Font will not disappoint. Let the magic of calligraphy unfold in your designs and mesmerize your audience.
| Font Name | AMS Vijay |
| --- | --- |
| Language | Hindi Font | Marathi Font |
| Font Style | Calligraphy Font |
| Font Weight | Bold Font |
| Rating | 10 out of 10 ★ |
| Variables | Yes - Limited |
Gear up with AMS Vijay Calligraphy Font, which comes as part of the IndiaFont V3 software. Alongside 100's of other stunning calligraphy fonts, this font is an invaluable asset that empowers your design endeavors.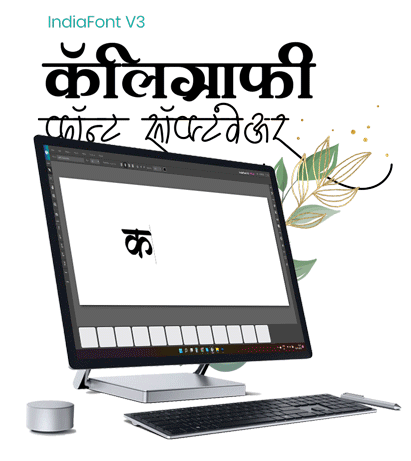 Hindi Marathi Calligraphy Fonts
Calligraphy Font Software: IndiaFont V3
At IndiaFont, called AMS Fonts also, we offer a diverse range of Free Indian Calligraphy Fonts. Explore our collection and unleash your imagination with our captivating fonts. Feel free to check some cool free fonts and download as needed.