Download Marathi Hindi Calligraphy Font Software for Windows

Marathi Hindi Calligraphy Font Software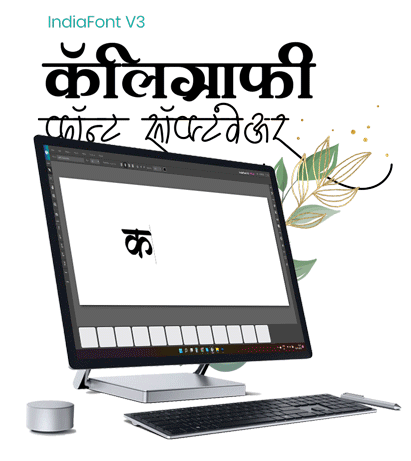 System Requirements for IndiaFont V3
Ready to immerse yourself in the enchanting world of calligraphy fonts? Download your free trial of IndiaFont V3 and experience the magic firsthand. Whether you're a seasoned calligrapher or just beginning your artistic exploration, IndiaFont V3 is your gateway to creating stunning and expressive calligraphy fonts.
Download IndiaFont V3 now and embark on a journey of artistic excellence. Discover the beauty of Indian languages through the art of calligraphy, and let your designs captivate audiences worldwide. With IndiaFont V3, the world of calligraphy is at your fingertips.
Marathi, an Indo-Aryan language, holds a special place as one of India's most vibrant regional languages. With over...
Read More
Are you in search of the perfect calligraphy fonts that add a touch of elegance to your designs? Look no further! IndiaFont offers an extensive selection of calligraphy fonts to cater to all your creative needs. Whether you're a professional designer, a calligraphy enthusiast, or simply seeking to add charm to your projects, IndiaFont has you covered.
India Font V3:

Our flagship calligraphy font software, IndiaFont V3, is the epitome of creativity and versatility. Download India Font V3 for free and experience the power of expressive calligraphy fonts in Hindi, Marathi, Gujarati, and English.
India Font V2:
If you've loved our earlier version, IndiaFont V2, you can still download it here. Enjoy the classic charm of IndiaFont V2 with its captivating JD fonts for IndiaFont V2.
India Font V1:
Relive the beginnings of our calligraphy journey with IndiaFont V1. Discover the beauty of our earlier fonts with the IndiaFont V1 font pack free download.
Easy and Secure Downloads:
At IndiaFont, we prioritize user satisfaction and safety. Rest assured that all our font downloads are secure and hassle-free. Explore our website, find the font that speaks to your creativity, and enjoy seamless downloads without any compromises.
Stay Updated with IndiaFont:
Be the first to know about our latest releases, updates, and exclusive offers by subscribing to our newsletter. Join our creative community and stay connected with the world of calligraphy fonts.
IndiaFont App: Calligraphy on the Go!
Coming Soon! We're thrilled to announce that our IndiaFont app will soon be available for download. Enjoy calligraphy fonts at your fingertips, wherever you go. Create stunning designs on your mobile device with ease and convenience.
Unlock Your Creative Potential:
Whether you're a seasoned calligrapher or just beginning your creative journey, IndiaFont has the perfect font for you. Download IndiaFont now and let your designs stand out with the enchanting art of calligraphy.
Download Now and start crafting captivating calligraphy fonts for your projects. Embrace the beauty of Indian languages and elevate your designs with IndiaFont – Your Ultimate Calligraphy Font Destination.
Older versions of IndiaFont
Please note that the Old versions are only for existing clients of V1 or V2 and looking to re-install. If you are new to the site, please download IndiaFont V3.
We understand the significance of preserving your creative journey, which is why we also provide access to the older versions of IndiaFont.
| | |
| --- | --- |
| Best Seller | Recommended |
| Fully Equipped | 250+ Fonts |
| 3 Langauges | Lifetime Validity |
| Multiple Variables | Alom Wilom |
| Free Items included | Loved by 99+ Users |