Decorative fonts, also known as display or ornamental fonts, are a captivating category of typefaces designed to evoke unique and artistic visual elements. Unlike traditional text fonts, decorative fonts prioritize creativity over readability, making them ideal for eye-catching headlines, titles, logos, and design elements. These fonts often feature intricate details, elaborate swirls, and stylistic embellishments that add flair and personality to any creative project.
Hindi Decorative Fonts
In Hindi design and creative endeavors, decorative fonts add a touch of elegance and artistic expression to various visual elements. These fonts embrace the beauty of Hindi script while incorporating unique and intricate designs that capture attention. Whether it's for event invitations, posters, or digital artwork, Hindi decorative fonts elevate the overall aesthetics of the design.
Marathi Decorative Fonts
Marathi decorative fonts infuse Marathi script with artistic and expressive elements, making them an excellent choice for adding a creative touch to any Marathi design. Their distinctive letterforms and stylistic flair enhance the visual appeal of invitations, social media graphics, and branding materials in Marathi.
Gujarati Decorative Fonts
Gujarati decorative fonts embrace the artistry of Gujarati script, offering designers and creators a delightful selection of typefaces to make their designs stand out. From decorative headlines to artistic signage, these fonts allow Gujarati content to shine with creativity and flair.
English Decorative Fonts
English decorative fonts encompass an extensive array of styles, from elegant script fonts to bold and whimsical typefaces. They are widely used in various design projects, including posters, banners, book covers, and branding materials. English decorative fonts add a touch of personality and uniqueness to any English-language design.
Download IndiaFont V3
With the download option V3, you gain access to an extensive library of top-notch publication fonts that cater to various regional languages and publishing needs. Whether you require Hindi, Marathi, Gujarati, or English publication fonts, V3 provides an array of meticulously crafted typefaces to elevate your publishing projects.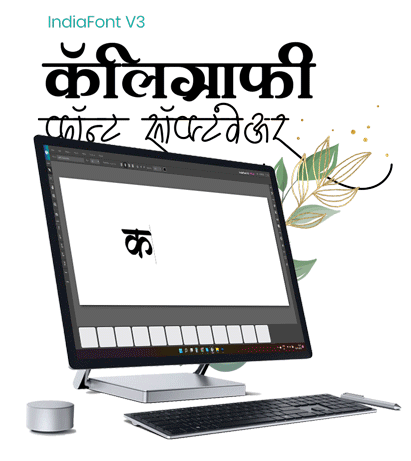 Calligraphy Font Software: IndiaFont V3