Introducing AMS Aesha English Calligraphy Font: IndiaFont V3
Welcome to the captivating world of AMS Aesha English Calligraphy Font, an exquisite English Calligraphy Font that exudes elegance and charm. Crafted with artistry and finesse by ArtoMania Studio Pvt Ltd, this premium font is a true testament to our commitment to providing exceptional typography.
AMS Aesha English Calligraphy Font features a regular font weight, striking a perfect balance between sophistication and readability. With a commendable rating of 6 out of 10, it has earned its place among the best calligraphy fonts, making it ideal for various creative projects.
Embrace the versatility of AMS Aesha English Calligraphy Font, a variable font that offers up to 12 delightful variations for a single letter. This unique feature opens up a world of design possibilities, allowing you to customize the font according to your artistic vision.
Infuse your designs with the graceful strokes of AMS Aesha font, adding a touch of artistry to your artworks, invitations, greeting cards, and more. Whether you're a professional designer or a passionate enthusiast, this font empowers you to express your creativity and captivate your audience with every stroke.
Indulge in the beauty of calligraphy with AMS Aesha font, a premium font available exclusively at IndiaFont.com. Join a community of design enthusiasts and explore a curated collection of English calligraphy fonts that will elevate your designs to new heights.
| | |
| --- | --- |
| Font Name: | AMS Aesha |
| Language: | English Font |
| Font Style: | Calligraphy Font |
| Font Weight: | Regular |
| Best for: | Typography |
| Rating: | 6 out of 10 |
| Font Author: | Sonali Pathare |
| Company: | ArtoMania Studio Pvt Ltd |
| Availability: | Premium Font |
| Available at: | IndiaFont.com |
| Font Publication Year: | 2018 |
Gear up with AMS Aesha English Calligraphy Font, which comes as part of the IndiaFont V3 software. Alongside 100's of other stunning calligraphy fonts, this font is an invaluable asset that empowers your design endeavors.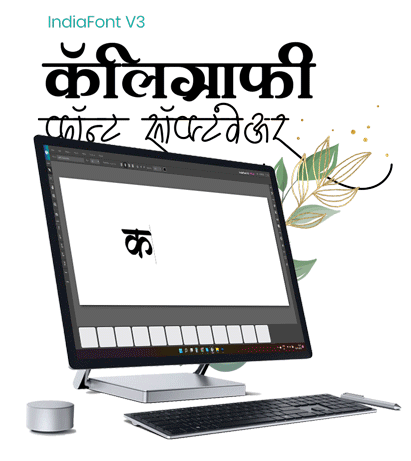 Hindi Marathi Calligraphy Fonts
Calligraphy Font Software: IndiaFont V3
At IndiaFont, called AMS Fonts also, we offer a diverse range of Free Indian Calligraphy Fonts. Explore our collection and unleash your imagination with our captivating fonts. Feel free to check some cool free fonts and download as needed.