AMS Akruti Calligraphy Font
Discover the essence of elegance and artistry with AMS Akruti Calligraphy Font – a shining gem among light-weight calligraphy fonts, tailor-made for Hindi and Marathi. Our font's enchanting beauty lies in its ability to empower you with up to 12 variations for nearly every single letter, opening the doors to infinite creative possibilities. 
As you already know, IndiaFont is renowned for its extraordinary features, and with AMS Akruti, you can effortlessly create next-level calligraphy masterpieces in just minutes. Embrace the convenience of typing in Hindi and Marathi, transcending language barriers to express your artistic visions with ease. 
Delight in our font's uniqueness as we present you with up to 50+ variables for the "Aa ki Matra" and up to 12 variables for the "ALOM WILOM Concept," allowing you to enhance the "ADHOREKHA" at the initial and end points of your calligraphy. Unravel the potential of every stroke, making your designs truly stand out. 
AMS Akruti Calligraphy Font, with its carefully crafted light-weight style, is a testament to perfection and harmony. Watch as your creations seamlessly blend grace and impact, capturing the hearts of viewers and leaving them in awe. 
And here's the best part – you don't need to be an expert to make the world say WOW! With a few clicks, AMS Akruti empowers you to craft stunning designs that resonate with beauty and sophistication. Embrace the ease and joy of designing with our trending font, which has already earned accolades from designers worldwide. Its current rating stands tall at an impressive 10 out of 10. 
We are humbled by the appreciation, and we take pride in having a plethora of other calligraphy fonts in IndiaFont V3, each boasting a 10 out of 10 rating. Discover and be inspired as you witness the artistry of our font collection. 
AMS Akruti Calligraphy Font – your gateway to unlocking a world of creativity and expression. Embrace its elegance, and let your designs speak volumes as you create wonders that make a mark.
| Font Name | AMS Akruti |
| --- | --- |
| Language | Hindi Font | Marathi Font |
| Font Style | Calligraphy Font |
| Font Weight | Light Font |
| Rating | 10 out of 10 ★ |
| Variables | Yes - Upto 12 |
Gear up with AMS Akruti Calligraphy Font, which comes as part of the IndiaFont V3 software. Alongside 100's of other stunning calligraphy fonts, this font is an invaluable asset that empowers your design endeavors.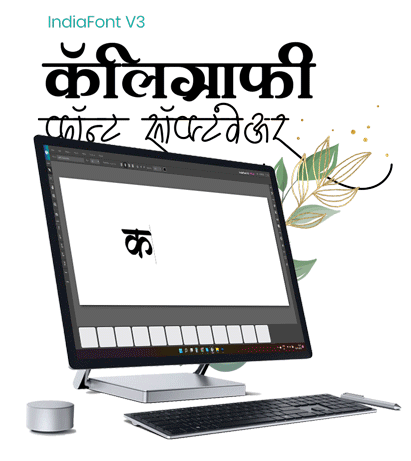 Hindi Marathi Calligraphy Fonts
Calligraphy Font Software: IndiaFont V3
At IndiaFont, called AMS Fonts also, we offer a diverse range of Free Indian Calligraphy Fonts. Explore our collection and unleash your imagination with our captivating fonts. Feel free to check some cool free fonts and download as needed.