AMS Ayodhya Calligraphy Font: Unleash the Artistic Splendor
Introducing the enchanting AMS Ayodhya Calligraphy font, a true masterpiece brought to life by ArtoMania Studio Pvt Ltd. This captivating font style beautifully merges the essence of Hindi and Marathi scripts, elevating your creative projects to new heights.
AMS Ayodhya Calligraphy font is the epitome of boldness and elegance, making it the perfect choice for all your design endeavors. With a stellar rating of 10 out of 10, this font has captured the hearts of countless designers and artists alike, and its soaring popularity continues to trend.
Unlock the true potential of your creative expressions with the versatility of this variable font, offering an impressive selection of up to 12 variables for a single letter. Each stroke becomes a canvas, empowering you to craft captivating artworks that leave a lasting impression.
For designers seeking Hindi calligraphy or Marathi fonts, AMS Ayodhya Calligraphy font is your beacon of artistic brilliance. Embrace the undiscovered realm of design possibilities and allow your creativity to flourish with this exceptional calligraphy font.
| Font Name | AMS Ayodhya |
| --- | --- |
| Language | Hindi Font | Marathi Font |
| Font Style | Calligraphy Font |
| Font Weight | Bold Font |
| Rating | 10 out of 10 ★ |
| Variables | Yes - Upto 12 |
Gear up with AMS Ayodhya Calligraphy font, which comes as part of the IndiaFont V3 software. Alongside 100's of other stunning calligraphy fonts, this font is an invaluable asset that empowers your design endeavors.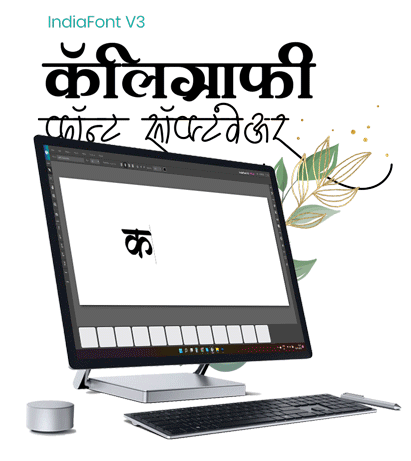 Hindi Marathi Calligraphy Fonts
Calligraphy Font Software: IndiaFont V3
At IndiaFont, called AMS Fonts also, we offer a diverse range of Free Indian Calligraphy Fonts. Explore our collection and unleash your imagination with our captivating fonts. Feel free to check some cool free fonts and download as needed.