AMS Bharat Calligraphy Font
AMS Bharat Calligraphy Font, a fusion of art and culture that embraces the essence of Hindi and Marathi scripts. Elevate your design projects with this versatile and stunning typeface that embodies the spirit of India.
Font Language: AMS Bharat Calligraphy font pays homage to the richness of Hindi and Marathi languages. Immerse yourself in the cultural heritage of these languages with this exquisite font.
Font Style: Experience the allure of AMS Bharat Calligraphy font, where traditional calligraphy meets modern design. Each character is crafted with precision and artistry, adding a touch of sophistication.
Font Weight: AMS Bharat boasts a regular font weight, ensuring optimal balance between readability and aesthetics. It guarantees a smooth reading experience across various applications, from print to digital.
Rating: AMS Bharat Calligraphy font holds a remarkable rating of 8 out of 10, a testament to its growing popularity and adoration among designers and artists alike. Its unique style and versatility make it a favorite choice.
Variables: AMS Bharat is a variable font, offering an incredible array of up to 12 customizable variables for single letters. Embrace the freedom of creativity and customization, making each project truly unique and expressive.
| Font Name | AMS Bharat |
| --- | --- |
| Language | Hindi Font | Marathi Font |
| Font Style | Calligraphy Font |
| Font Weight | Regular / Medium |
| Rating | 8 out of 10 ★ |
| Variables | Yes - Upto 12 |
Gear up with AMS Bharat Calligraphy Font, which comes as part of the IndiaFont V3 software. Alongside 100's of other stunning Marathi fonts, this font is an invaluable asset that empowers your design endeavors.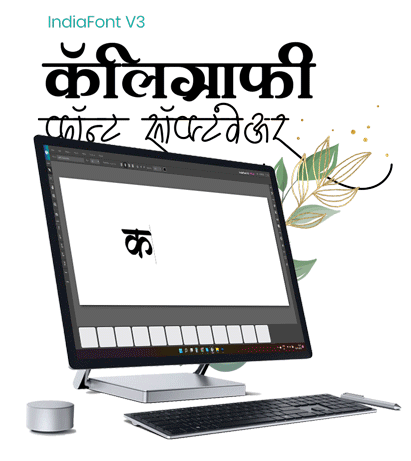 Hindi Marathi Calligraphy Fonts
Calligraphy Font Software: IndiaFont V3
At IndiaFont, called AMS Fonts also, we offer a diverse range of Free Calligraphy Fonts. Explore our collection and unleash your imagination with our captivating fonts. Feel free to check some cool free fonts and download as needed.