AMS Bhupati Calligraphy Font
Welcome to the artistic realm of AMS Bhupati Calligraphy Font, a mesmerizing blend of Hindi and Marathi scripts that will infuse elegance into your designs. Unleash the power of calligraphy with this unique typeface, perfect for all your creative endeavors.
Font Language: Hindi and Marathi languages with AMS Bhupati Calligraphy font. Each character exudes grace and sophistication, reflecting the beauty of these languages in every stroke.
Font Style: Elevate your design projects with the timeless allure of AMS Bhupati Calligraphy font. It seamlessly merges traditional calligraphy with a contemporary touch, making it an ideal choice for any creative masterpiece.
Font Weight: AMS Bhupati presents a regular font weight, ensuring clear readability while retaining its artistic charm. Whether on printed materials or digital platforms, this font delivers a flawless visual experience.
Rating: Celebrated with a remarkable rating of 7 out of 10, AMS Bhupati Calligraphy font has garnered immense admiration and popularity within the design community. Its widespread appeal makes it a trending choice for calligraphy enthusiasts.
Variables: AMS Bhupati is a versatile variable font that offers up to 12 customizable variables for single letters, allowing you to personalize each character as per your artistic vision. Unleash your creativity with this unique customization feature.
| Font Name | AMS Bhupati |
| --- | --- |
| Language | Hindi Font | Marathi Font |
| Font Style | Calligraphy Font |
| Font Weight | Regular / Medium |
| Rating | 7 out of 10 ★ |
| Variables | Yes - Upto 12 |
Gear up with AMS Bhupati Calligraphy Font , which comes as part of the IndiaFont V3 software. Alongside 100's of other stunning Marathi fonts, this font is an invaluable asset that empowers your design endeavors.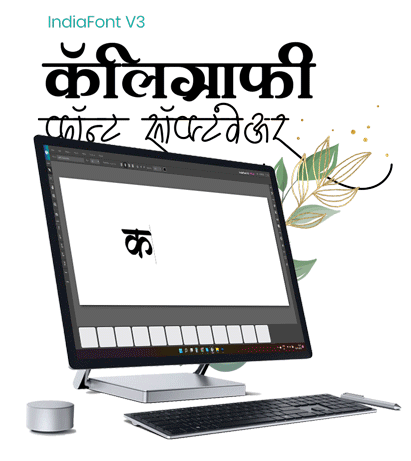 Hindi Marathi Calligraphy Fonts
Calligraphy Font Software: IndiaFont V3
At IndiaFont, called AMS Fonts also, we offer a diverse range of Free Calligraphy Fonts. Explore our collection and unleash your imagination with our captivating fonts. Feel free to check some cool free fonts and download as needed.