AMS Eta English Calligraphy Font
Presenting the mesmerizing AMS Eta English Calligraphy Font, a delightful fusion of traditional calligraphy and contemporary charm, perfectly suited for all your creative endeavors. Let the fluidity of this font elevate your designs and captivate your audience.
Font Language: Crafted exclusively for the English language, AMS Eta English Calligraphy Font embraces the elegance and versatility of English, adding a touch of sophistication to your written expressions.
Font Style: Unveil the artistry of AMS Eta English Calligraphy Font, an enchanting blend of calligraphic finesse and modern appeal. Embark on a journey of artistic expression with this timeless font that breathes life into every character.
Font Weight: Experience seamless readability and visual balance with AMS Eta in its Regular weight. This font effortlessly adapts to various design contexts, ensuring an exquisite display on both print and digital platforms.
Rating and Uniqueness: With a rating of 5 out of 10, AMS Eta stands as a hidden gem among fonts, waiting to be discovered. Embrace its uniqueness and unlock its potential to bring a distinct touch to your projects.
Variable Font Customization: Embark on your creative exploration with AMS Eta, a font that offers boundless possibilities. Although it does not have variables, its inherent charm and expressive nature make it a versatile choice for your artistic visions.
| Font Name | AMS Eta |
| --- | --- |
| Language | English Fonts |
| Font Style | Calligraphy Font |
| Font Weight | Regular / Medium |
| Rating | 5 out of 10 ★ |
| Variables | None |
Gear up with AMS Eta English Calligraphy Font, which comes as part of the IndiaFont V3 software. Alongside 100's of other stunning English calligraphy fonts, this font is an invaluable asset that empowers your design endeavors.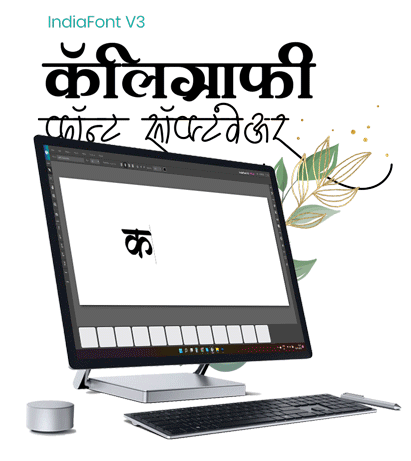 English Calligraphy Fonts
Calligraphy Font Software: IndiaFont V3
At IndiaFont, called AMS Fonts also, we offer a diverse range of Free English Calligraphy Fonts. Explore our collection and unleash your imagination with our captivating fonts. Feel free to check some cool free fonts and download as needed.