AMS Jaimin Gujarati Publication Font
Presenting AMS Jaimin Publication font, a tribute to the expressive and enchanting Gujarati language. With its delicate strokes and sophisticated design, AMS Jaimin adds an artistic flair to your publications, making it a perfect choice for various creative projects.
Font Language: Indulge in the rich cultural heritage of the Gujarati language with AMS Jaimin font. Each character is crafted with precision, ensuring an authentic and immersive reading experience for your audience.
Font Style: Unveil the charm of AMS Jaimin Publication font, designed to elevate your publications to new heights. Whether it's for magazines, books, or any other printed materials, AMS Jaimin's timeless style is sure to leave a lasting impact on your readers.
Font Weight: Discover the grace of AMS Jaimin Light font, a weight that strikes the perfect balance between elegance and legibility. Its gentle appearance is captivating, making it suitable for a wide range of content.
Rating and Trending: AMS Jaimin proudly boasts a commendable rating of 7 out of 10, signifying its popularity and recognition in the Gujarati typography world. This font is cherished by many, making it a beloved choice among creators and designers alike.
| Font Name | AMS Jaimin Gj |
| --- | --- |
| Language | Gujarati Font |
| Font Style | Publication Font |
| Font Weight | Light Font |
| Rating | 7 out of 10 ★ |
| Variables | None |
Gear up with AMS Jaimin Gujarati Publication Font, which comes as part of the IndiaFont V3 software. Alongside lots of other stunning Publication fonts, this font is an invaluable asset that empowers your design endeavors.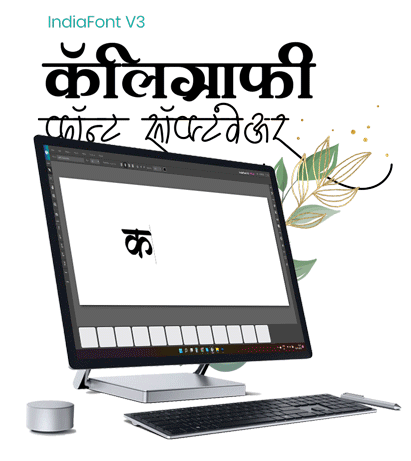 Calligraphy Font Software: IndiaFont V3
At IndiaFont, called AMS Fonts also, we offer a diverse range of Free Fonts. Explore our collection and unleash your imagination with our captivating fonts. Feel free to check some cool free fonts and download as needed.