AMS Nakul Creative Font is an extraordinary Creative Font that celebrates the beauty of Hindi and Marathi scripts, providing a perfect canvas for your artistic expressions.
Font Language: Embrace the eloquence of Hindi and Marathi languages with AMS Nakul Creative Font, a font that allows you to create designs infused with the cultural richness of both scripts.
Font Style: AMS Nakul Creative Font embodies a harmonious blend of tradition and modernity, making it the perfect choice for expressing your artistic vision.
Font Weight: With its Bold font weight, AMS Nakul Creative Font exudes confidence and captivates attention, ideal for creating impactful headlines and eye-catching design elements.
Rating and Popularity: AMS Nakul Creative Font is not just a font; it's an artistic journey that has touched the hearts of designers worldwide. Its remarkable rating of 10 out of 10 speaks volumes about its trendsetting appeal and widespread admiration.
Variable Font Customization: AMS Nakul's intricately crafted design ensures that it stands out without the need for variable font customization. Each letter is a work of art, contributing to an exceptional design experience.
| Font Name | AMS Nakul |
| --- | --- |
| Language | Hindi Font | Marathi Font |
| Font Style | Creative Font |
| Font Weight | Bold Font |
| Rating | 10 out of 10 ★ |
| Variables | None |
Gear up with AMS Nakul Creative Font, which comes as part of the IndiaFont V3 software. Alongside 100's of other stunning calligraphy fonts, this font is an invaluable asset that empowers your design endeavors.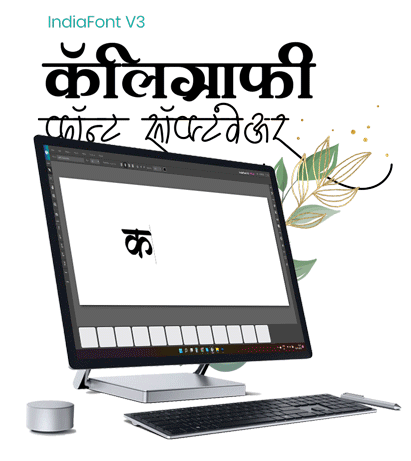 Hindi Marathi Calligraphy Fonts
Calligraphy Font Software: IndiaFont V3
At IndiaFont, called AMS Fonts also, we offer a diverse range of Free Indian Calligraphy Fonts. Explore our collection and unleash your imagination with our captivating fonts. Feel free to check some cool free fonts and download as needed.