AMS Patralekha Calligraphy Font
Welcome to the captivating world of AMS Patralekha Calligraphy Font, where elegance and creativity intertwine seamlessly. This light-weight font, designed for Hindi and Marathi scripts, effortlessly captures the essence of calligraphy, making it the perfect choice for all your creative endeavors.
Font Language: AMS Patralekha Calligraphy font pays homage to the richness and grace of two captivating languages – Hindi and Marathi. With its expressive letterforms, it brings out the beauty and authenticity of these scripts, adding depth and soul to your written content.
Font Style: Discover the enchanting allure of AMS Patralekha Calligraphy font, where traditional calligraphy meets contemporary aesthetics. Each stroke is a brush of creativity, creating an enchanting visual narrative that elevates the overall aesthetics.
Font Weight: The light font weight of AMS Patralekha enhances readability while retaining its artistic charm. Its graceful strokes and gentle curves lend a touch of subtlety and finesse to your text, creating an immersive visual experience.
Rating: AMS Patralekha Calligraphy font stands proudly with a remarkable rating of 10 out of 10! Loved and cherished by designers and users alike, this font stands out as the epitome of excellence and is widely recognized as one of the best calligraphy fonts available.
Variables: AMS Patralekha may not have variables, but its fixed design is a masterpiece in itself. Embrace its unique elegance and authenticity, knowing that each character is meticulously crafted to perfection.
| Font Name | AMS Patralekha |
| --- | --- |
| Language | Hindi Font | Marathi Font |
| Font Style | Calligraphy Font |
| Font Weight | Light Font |
| Rating | 10 out of 10 ★ |
| Variables | None |
Gear up with AMS Patralekha Calligraphy Font, which comes as part of the IndiaFont V3 software. Alongside 100's of other stunning calligraphy fonts, this font is an invaluable asset that empowers your design endeavors.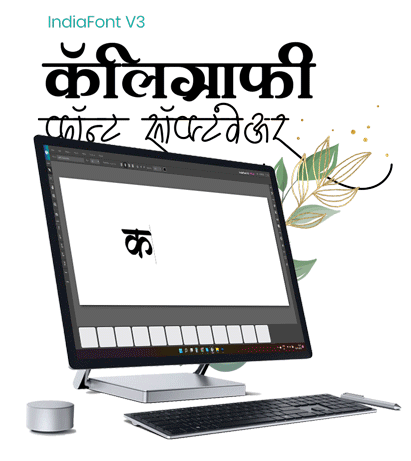 Hindi Marathi Calligraphy Fonts
Calligraphy Font Software: IndiaFont V3
At IndiaFont, called AMS Fonts also, we offer a diverse range of Free Indian Calligraphy Fonts. Explore our collection and unleash your imagination with our captivating fonts. Feel free to check some cool free fonts and download as needed.