AMS Rama Calligraphy Font
A captivating fusion of artistic expression and modern design, meticulously crafted to elevate your creative projects to new heights. Embrace the beauty of Hindi Calligraphy and Marathi Calligraphy with this exquisite font, thoughtfully designed to leave a lasting impression.
AMS Rama presents itself as a bold and enchanting font, exuding an aura of elegance and sophistication. Its carefully crafted calligraphic strokes make it a perfect choice for designers seeking the best calligraphy font for their projects.
With an impressive rating of 8 out of 10, AMS Rama is gaining popularity and admiration within the design community. Loved by many, it stands as a testament to its exceptional quality and trendsetting appeal.
One of the most remarkable features of AMS Rama is its versatility, offering up to 12 variables for single letters. This unique characteristic allows for endless customization, empowering you to create personalized and captivating designs.
AMS Rama Calligraphy Font is a hidden gem, waiting to be discovered and celebrated. For those seeking to add a touch of allure and charm to their creations, this font offers the perfect solution.
Embrace the enchanting allure of Hindi and Marathi calligraphy with AMS Rama Calligraphy Font. Let its bold and captivating strokes breathe life into your designs, infusing them with elegance and creativity.
| Font Name | AMS Rama |
| --- | --- |
| Language | Hindi Font | Marathi Font |
| Font Style | Calligraphy Font |
| Font Weight | Bold Font |
| Rating | 8 out of 10 ★ |
| Variables | Yes - Upto 12 |
Gear up with AMS Rama Calligraphy Font, which comes as part of the IndiaFont V3 software. Alongside 100's of other stunning calligraphy fonts, this font is an invaluable asset that empowers your design endeavors.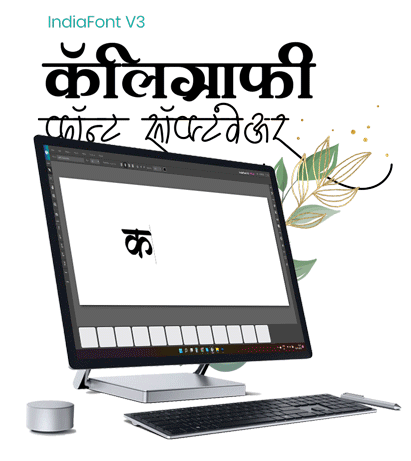 Hindi Marathi Calligraphy Fonts
Calligraphy Font Software: IndiaFont V3
At IndiaFont, called AMS Fonts also, we offer a diverse range of Free Indian Calligraphy Fonts. Explore our collection and unleash your imagination with our captivating fonts. Feel free to check some cool free fonts and download as needed.