AMS Prasad Calligraphy Font
Unleash the beauty of your words with AMS Prasad Calligraphy font, a perfect blend of tradition and innovation. Elevate your designs with this captivating font that gracefully supports both Hindi and Marathi languages.
Font Style: Experience the essence of Calligraphy as your text comes to life with AMS Prasad.
Font Weight: Make a bold statement with the Bold Font of AMS Prasad, leaving a lasting impression on your audience.
Rating: With an impressive rating of 6 out of 10, AMS Prasad has earned the appreciation of designers and continues to enchant many.
Variables: Unleash your creativity with AMS Prasad—a versatile variable font offering up to 12 customizable options for a single letter, empowering you with endless customization possibilities.
For those seeking the finest Hindi Calligraphy fonts and Marathi Calligraphy fonts, AMS Prasad is a hidden gem waiting to be discovered. Embrace the charm of this font and create designs that mesmerize the world.
| Font Name | AMS Prasad |
| --- | --- |
| Language | Hindi Font | Marathi Font |
| Font Style | Calligraphy Font |
| Font Weight | Bold Font |
| Rating | 6 out of 10 ★ |
| Variables | Yes - Upto 12 |
Gear up with AMS Prasad Calligraphy Font, which comes as part of the IndiaFont V3 software. Alongside 100's of other stunning calligraphy fonts, this font is an invaluable asset that empowers your design endeavors.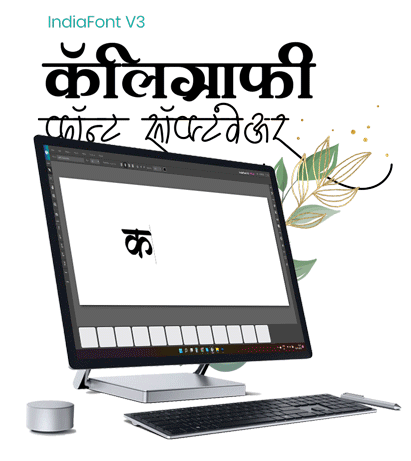 Hindi Marathi Calligraphy Fonts
Calligraphy Font Software: IndiaFont V3
At IndiaFont, called AMS Fonts also, we offer a diverse range of Free Indian Calligraphy Fonts. Explore our collection and unleash your imagination with our captivating fonts. Feel free to check some cool free fonts and download as needed.