AMS Swarajya Calligraphy Font
Discover the artistry of AMS Swarajya Calligraphy font, a masterpiece designed to bring your words to life in Hindi and Marathi. With its bold and captivating Font Style, this font empowers you to express your creativity with confidence.
Font Weight: Make a bold statement and emphasize your message with the Bold Font of AMS Swarajya.
Rating: With an impressive 6 out of 10 rating, AMS Swarajya is a font that has already earned the admiration of many.
Variables: Experience the freedom of customization with AMS Swarajya, a versatile variable font offering up to 12 customizable options for a single letter, allowing you to craft personalized designs.
For those seeking the finest Hindi Calligraphy fonts and Marathi Calligraphy fonts, AMS Swarajya is your ultimate choice. Unlock the true potential of your designs with this font that beautifully blends tradition and innovation. Be a trendsetter and let your creativity soar with AMS Swarajya Calligraphy font.
| Font Name | AMS Swarajya |
| --- | --- |
| Language | Hindi Font | Marathi Font |
| Font Style | Calligraphy Font |
| Font Weight | Bold Font |
| Rating | 6 out of 10 ★ |
| Variables | Yes - Upto 12 |
Gear up with AMS Swarajya Calligraphy Font, which comes as part of the IndiaFont V3 software. Alongside 100's of other stunning calligraphy fonts, this font is an invaluable asset that empowers your design endeavors.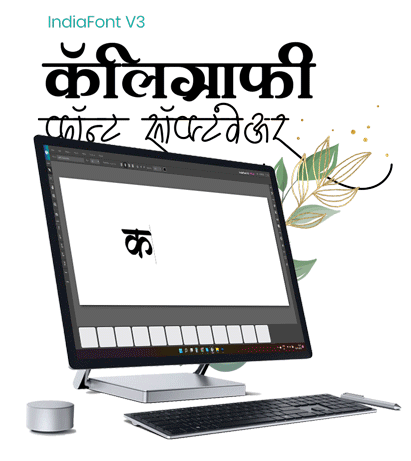 Hindi Marathi Calligraphy Fonts
Calligraphy Font Software: IndiaFont V3
At IndiaFont, called AMS Fonts also, we offer a diverse range of Free Indian Calligraphy Fonts. Explore our collection and unleash your imagination with our captivating fonts. Feel free to check some cool free fonts and download as needed.