AMS RajVeer Calligraphy Font: An Exquisite Artistry
Unveiling the AMS RajVeer Calligraphy font, a true marvel that weaves the essence of Hindi and Marathi script into a breathtaking symphony of design. Crafted by ArtoMania Studio Pvt Ltd, this font exudes an aura of grandeur and elegance, setting the stage for your creativity to shine.
Bold and captivating, AMS RajVeer proudly boasts a perfect 10 out of 10 rating, a testament to its allure and popularity among designers and enthusiasts alike. With its graceful strokes and profound curves, this font stands as a paragon of calligraphic excellence.
Prepare to be enchanted by the boundless possibilities of the AMS RajVeer Calligraphy font, a variable font offering up to 12 stunning variations for a single letter. This artistic versatility empowers you to add a personalized touch to every project you undertake.
For those seeking an undiscovered gem, we introduce you to our collection of fonts with lower ratings. Embrace the charm of these hidden treasures and unleash your imagination with each stroke. Dive into the realm of creativity and find inspiration in the uniqueness of each font, waiting to be explored.
| Font Name | AMS RajVeer |
| --- | --- |
| Language | Hindi Font | Marathi Font |
| Font Style | Calligraphy Font |
| Font Weight | Bold Font |
| Rating | 10 out of 10 ★ |
| Variables | Yes - Upto 12 |
Gear up with AMS RajVeer Calligraphy Font, which comes as part of the IndiaFont V3 software. Alongside 100's of other stunning calligraphy fonts, this font is an invaluable asset that empowers your design endeavors.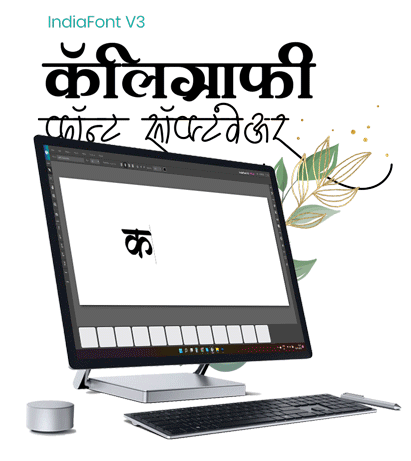 Hindi Marathi Calligraphy Fonts
Calligraphy Font Software: IndiaFont V3
At IndiaFont, called AMS Fonts also, we offer a diverse range of Free Indian Calligraphy Fonts. Explore our collection and unleash your imagination with our captivating fonts. Feel free to check some cool free fonts and download as needed.