AMS Shambhu Calligraphy Font:
Unleash Your Creative Expression
Welcome to the enchanting world of AMS Shambhu Calligraphy font, a masterpiece brought to life by ArtoMania Studio Pvt Ltd. This font gracefully fuses the artistic essence of Hindi and Marathi scripts, elevating your designs with a touch of elegance and finesse.
Bold, beautiful, and utterly captivating, the AMS Shambhu Calligraphy font has earned a remarkable 10 out of 10 rating. This font is not just a tool for artistic expression; it has become a trendsetter and a beloved choice among designers and users alike.
One of the font's extraordinary features is its versatility as a variable font, offering an impressive array of up to 12 variations for a single letter. With each stroke, you can craft a multitude of unique designs, making AMS Shambhu the perfect companion for unleashing your creativity.
Discover the allure of AMS Shambhu Calligraphy font, where every character is a work of art in itself, waiting to breathe life into your projects. So, whether it's Hindi calligraphy or Marathi fonts you seek, AMS Shambhu is your pathway to artistic brilliance.
| Font Name | AMS Shambhu |
| --- | --- |
| Language | Hindi Font | Marathi Font |
| Font Style | Calligraphy Font |
| Font Weight | Bold Font |
| Rating | 10 out of 10 ★ |
| Variables | Yes - Upto 12 |
Gear up with AMS Shambhu Calligraphy Font, which comes as part of the IndiaFont V3 software. Alongside 100's of other stunning calligraphy fonts, this font is an invaluable asset that empowers your design endeavors.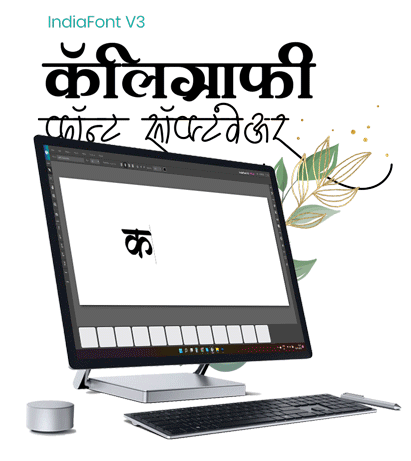 Hindi Marathi Calligraphy Fonts
Calligraphy Font Software: IndiaFont V3
At IndiaFont, called AMS Fonts also, we offer a diverse range of Free Indian Calligraphy Fonts. Explore our collection and unleash your imagination with our captivating fonts. Feel free to check some cool free fonts and download as needed.