AMS Varanasi Calligraphy Font
Introducing AMS Varanasi Calligraphy Font, the epitome of artistic expression in the realm of Hindi Calligraphy and Marathi Calligraphy. Embrace the essence of this captivating font that combines tradition with modernity, making it the perfect choice for a wide range of design projects.
AMS Varanasi stands as a testament to the beauty of calligraphy, with a remarkable rating of 9 out of 10, signifying its immense popularity and appeal among designers and calligraphy enthusiasts alike. This font has carved its place as one of the best calligraphy fonts, loved and cherished by many.
One of the standout features of AMS Varanasi Calligraphy Font is its remarkable versatility, thanks to the up-to 12 variables for single letter. This allows you to indulge in endless possibilities of customization, empowering you to create designs that are uniquely yours.
With its bold strokes and graceful curves, AMS Varanasi Calligraphy Font exudes confidence and elegance. It effortlessly adds a touch of sophistication to your projects, making them stand out and leave a lasting impression.
For those seeking a font that is yet to be discovered by the masses, AMS Varanasi is a hidden gem waiting to be explored. Embrace its untapped potential and be among the first to unleash its creative possibilities.
| Font Name | AMS Varanasi |
| --- | --- |
| Language | Hindi Font | Marathi Font |
| Font Style | Calligraphy Font |
| Font Weight | Bold Font |
| Rating | 9 out of 10 ★ |
| Variables | Yes - Upto 12 |
Gear up with AMS Varanasi Calligraphy Font, which comes as part of the IndiaFont V3 software. Alongside 100's of other stunning calligraphy fonts, this font is an invaluable asset that empowers your design endeavors.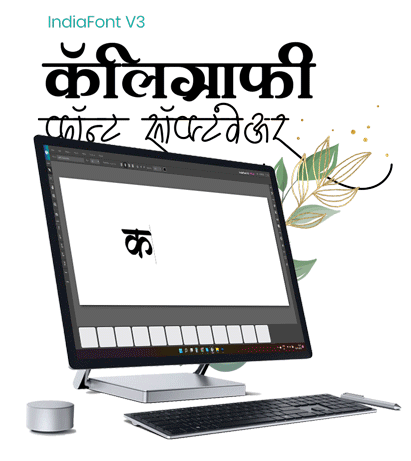 Hindi Marathi Calligraphy Fonts
Calligraphy Font Software: IndiaFont V3
At IndiaFont, called AMS Fonts also, we offer a diverse range of Free Indian Calligraphy Fonts. Explore our collection and unleash your imagination with our captivating fonts. Feel free to check some cool free fonts and download as needed.